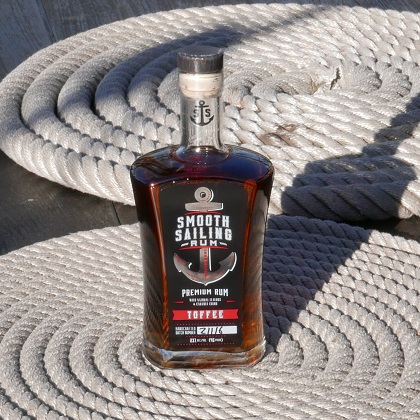 Smooth Sailing Rum tastes like toffee candy, it's Smooth & Delicious. Enjoy it at room temperature: sip it and let it bathe your tongue, then slowly swallow. There are many complex toffee flavors. Many enjoy Smooth Sailing Rum on the rocks or in a cocktail: Dreamsicle: mix with Orange Juice, Werther's: mix with Root Beer, Toffee Coffee: mix with coffee or enjoy it with Pineapple Juice.
Smooth Sailing Rum is carefully distilled to the absolute Heart of the Rum, gathering only the exceptionally Smooth distillate. The Fractionating Still has a efficient configuration with a centralized internal condenser, that was developed in house.  The Reflux is concentrated at the center of the column. A slow and careful distillation is what gives Smooth Sailing Rum its "Smooth".
This small batch system incorporates a unique aging method in which the Rum is heated to 125 degrees for a 20 day period. In this way, the flavors coalesce into a unifying flavor. This is what gives Smooth Sailing Rum its "Delicious".
Smooth Sailing is a lifestyle of carefree travel and adventure; the world is your oyster. Sail over the horizon to the wonders that the world holds: seeking mysteries off the beaten path and dare to live on the edge!
Ask for it!  Please ask for Smooth Sailing Rum from a store near you!
Smooth Sailing Rum is distilled and bottled in Coleman, Wisconsin by The North Woods Distillery llc.  Be Smooth, Live Responsibly.
Please contact General Beverage for Distribution inside of Wisconsin.
---
Imagine yourself sailing along in light winds, on a sunny day. The sound of the boat slicing through the water and the gentle winds whisping at your ears. The Sun is bright and you can see deep into the water. Smooth Sailing implies the steady wind forcefully pushing you to your next destination. Dolphins frolic at…
Continue Imagining...