One day I rode my fold-up bicycle into town and found an agricultural market. I bought all the vegetables I could carry. I also changed money with a local. He threw out 20 pesos and I threw out a $1 U.S. bill. We exchanged 7 times, and he was very happy. I bicycled the 3 miles back to the dinghy and unloaded my pack. I headed back to town for more shopping.
While I was buying cigars inside a house, a man from the Guarda Frontera walked in and told me I had no permission to be there. I told him I did have permission, and my sailboat was anchored nearby at Bahia Honda. I was completing my purchase while the Guarda said something in Spanish I didn't understand. Everyone in the room started defending themselves, and one man who spoke a little English put his hands on his wrists like handcuffs and said, "You go with him now!"
With me on my bicycle and the Guarda on his bicycle, I was escorted back to my dinghy. I kept thinking that I was going to a Cuban prison! When we arrived, I noticed an army jeep and three officials looking over my dinghy. One of the officials asked what I was doing, and I told him that I bought food, cigars, and bowls. He asked what I paid for these items and what currency I used. I told him that I paid in Pesos and produced a wallet full of them. Everyone sighed, relieved.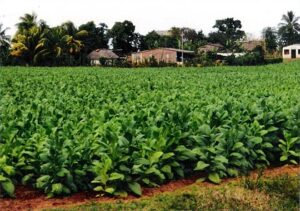 The government controls the exchange of all foreign currency. If I would have been caught changing U.S. dollars with the locals, I would have been jailed. It was a close call.
Cubans can only buy certain things with the peso. For other necessities, they need to pay in U.S. currency. If Cubans have relatives in Miami that send USD in the mail, this is not a problem. If they don't have relatives like that, they went without much-needed items. One of my goals in Cuba was to help the people get U.S. money. I brought $450 in $1s and $5s.