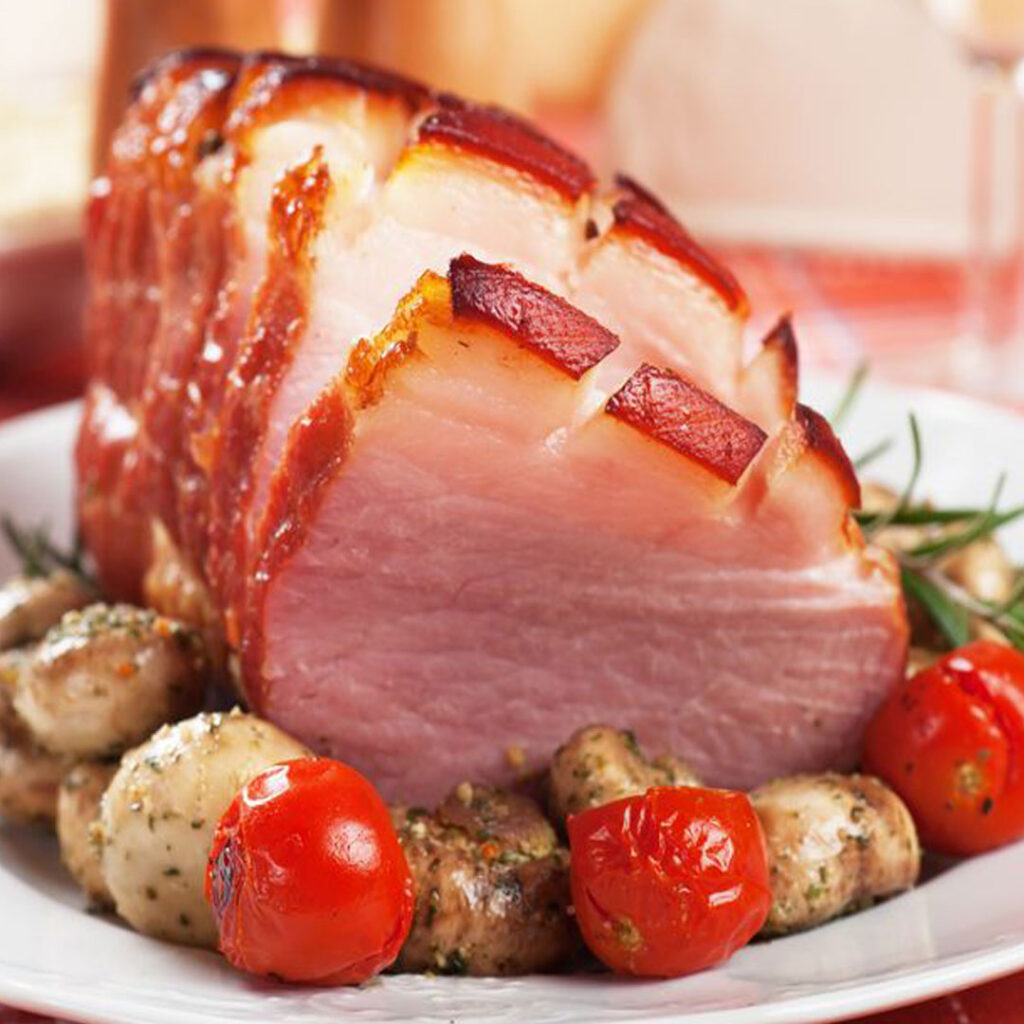 Makes about 8 servings
1 (7- to 8-pound) (shank end) fully cooked cured ham
1/3 cup pure cane syrup or Karo Syrup
1/3 cup Smooth Sailing Rum
1/4 cup (firmly packed) light brown sugar
1 teaspoon freshly ground black pepper
2 tablespoons fresh lemon juice
Preheat the oven to 350 degrees.
If the ham comes with the skin still attached, remove most of it with a sharp knife, leaving a layer of fat and a collar of skin around the end of the shank bone. Trim the fat, leaving a layer about one-half-inch thick. Score the fat into diamonds.
Bake the ham on a rack in a roasting pan for one hour. Combine the syrup, sugar, Smooth Sailing Rum, pepper and lemon juice in a small mixing bowl. Whisk to blend well. Spoon the glaze evenly over the ham. Return the ham to the oven and bake for 30 to 35 minutes, or until the glaze is brown and bubbly.
Remove the ham from the oven and let rest for about 15 minutes before slicing to serve. Use any leftovers to make sandwiches the next day. The bone is ideal for making soups.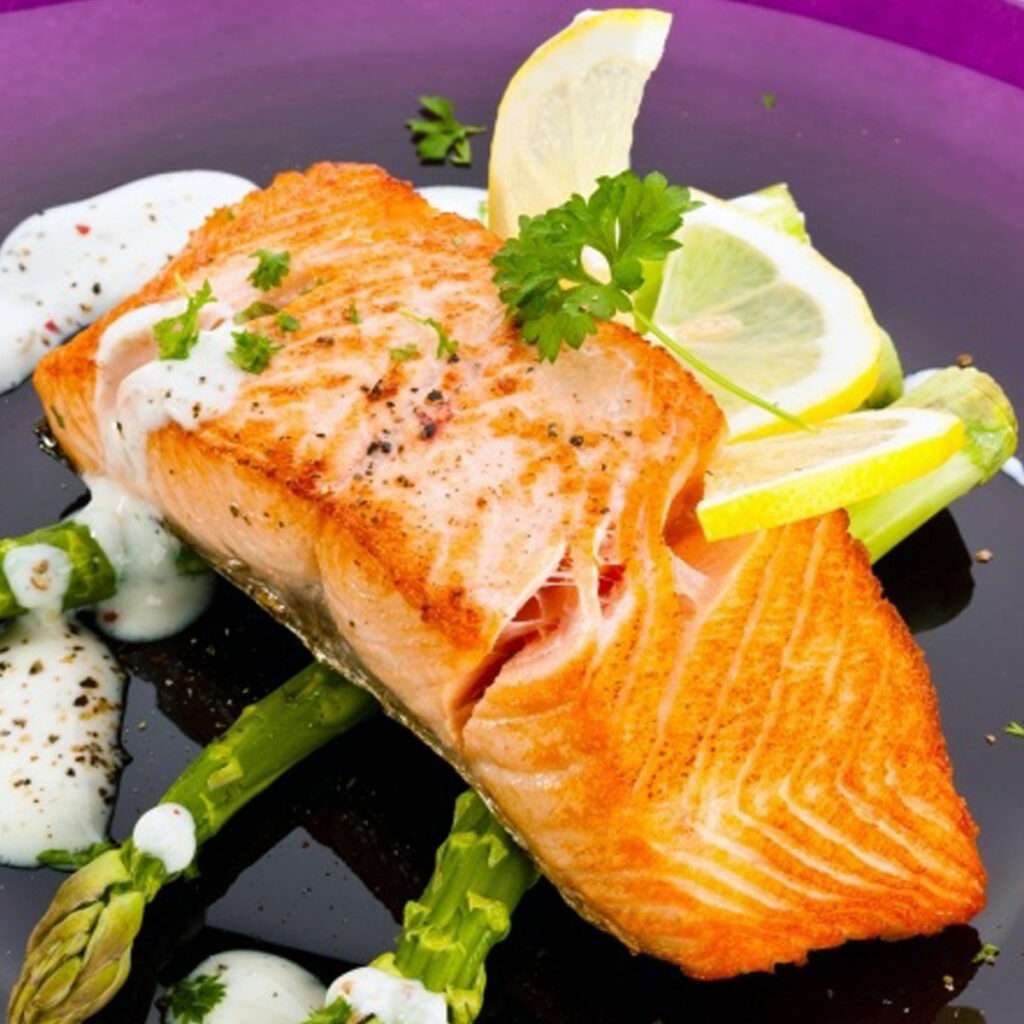 Your taste buds will thank you.
Pour 6 oz. of Smooth Sailing Rum in a bowl or ziplock bag. Add fish. Let soak for 2 hours.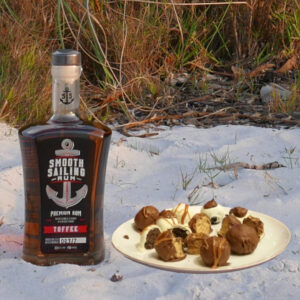 Rich, creamy and oh-so delicious! These no-bake Smooth Sailing Rum Cheesecake Balls are the perfect gift for family or friends, or just a great holiday treat. Serves: 20
11 oz package of Nabisco Nilla wafers
8 oz Cream Cheese, softened
2 oz Smooth Sailing Rum
8 oz Chocolate, for dipping
8 oz White Chocolate, for dipping
1 oz Caramel Bits, for drizzling
2 Oreo cookies (optional)
1) Crush wafers in food processor until they resemble fine crumbs.
2) Add Cream Cheese and Smooth Sailing Rum into food processor and mix well.
Option: Make half of the balls dark brown in color by removing half of mixture and add the 2 Oreo's (minus the cream filling) into the food processor and mix well.
3) Place mixture into the fridge for 40 minutes to harden.
4) Roll into 1 inch balls and then place balls onto baking paper lined tray and return to the fridge for 20 minutes.
5) Place one type of chocolate at a time into a bowl, heat in a microwave at 50% power for 2-3 minutes stirring every 30 seconds.
6) Place the balls into the bowl of melted chocolate (in batches) and use 2 teaspoons to roll the balls around until they are completely covered.
8) Drizzle with melted Caramel if desired.
Beat together: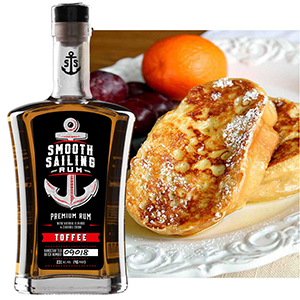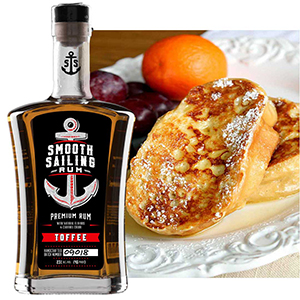 3 oz Smooth Sailing Rum
6 large eggs
pinch of salt
6-8 slices of french bread slightly stale and cut thick. Leave out overnight to dry.
Soak each side of the bread in the egg mixture and carefully transfer to a hot griddle. Flip over to cook the other side. Fry each side until golden brown. French Toast's taste and consistency will be determined by the bread. Use high-quality bread.
Butter Rum Syrup:
1 cup maple syrup
2 tbsp butter (melted)
2 tbsp Smooth Sailing Rum
Stir well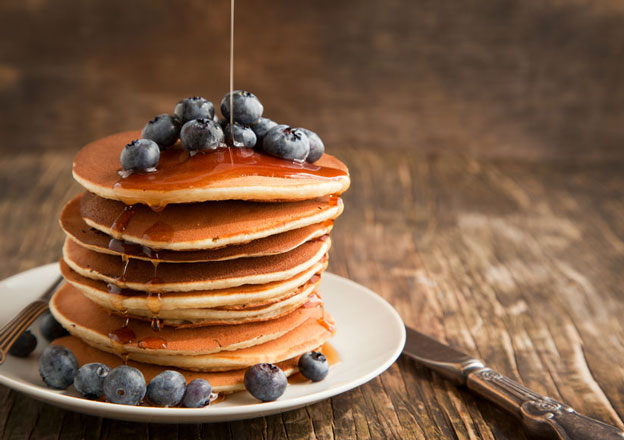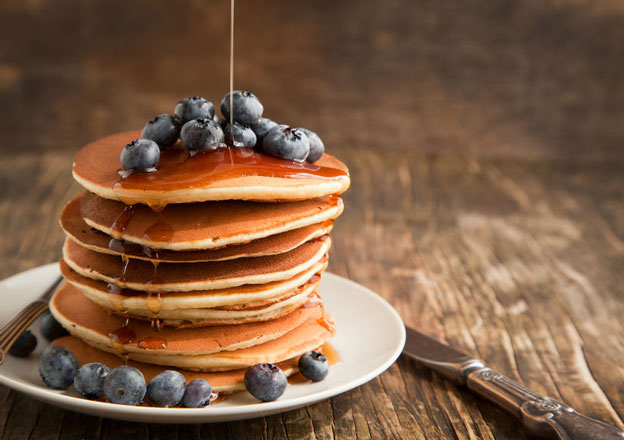 Pancakes:
1 ½ cups flour
4 tsp baking powder
1 tbsp brown sugar
1 tsp salt
¼ tsp cinnamon
dash nutmeg
1 cup Smooth Sailing Rum
½ cup water
2 eggs
3 tbsp butter (melted)
In a large bowl, sift together the flour, baking powder, cinnamon, nutmeg, salt, and sugar. Make a well in the center and pour in the Smooth Sailing Rum, egg, water and melted butter; mix until smooth.
Heat a lightly oiled griddle or frying pan over medium-high heat. Pour or scoop the batter onto the griddle, using approximately 1/4 cup for each pancake. Brown on both sides and serve hot. Blueberries optional
Butter Rum Pancake Syrup:
1 cup maple syrup
2 tbsp butter (melted)
2 tbsp Smooth Sailing Rum
Stir well
Serves 2 to 3
4 tables. (1.2) stick Salted Butter
1/4 cup Brown Sugar
2 Bananas Sliced in half and then sliced in half
2 teaspoon Cinnamon
2 tablespoons Banana Liqueur
1/4 cup Smooth Sailing Rum
2 large scoop Vanilla Bean Ice Cream – About 2 cups
On a medium heat, using a small skillet add brown sugar, stirring continuously for a few seconds. Add the banana liqueur and Smooth Sailing Rum.
Cook the sauce until it starts to bubble. This should take about 3 to 4 minutes. It should have the consistency of maple syrup and look like a dark caramel.
Note: Do not walk away. Stir consistently. When the sauce is almost down add the butter and allow it to slowly incorporate into the sauce. The butter is a finishing technique which as richness and creaminess to the sauce. If the sauce starts to boil over turn it down and continue cooking until done. Add Bananas. Allow the sauce to cool before serving.
For the ice cream. Pre scoop your ice cream ahead of time. Place scooped ice cream on in a bowl uncovered in the freezer 1 hour prior to serving. This will save time and keep the ice cream hard to keep it from melting to fast from the warm sauce.
Presentation: In a medium size white bowl place a large scoop of ice cream directly in the middle. Arrange the bananas around the ice cream in, 4 pieces per bowl or 2 ½ if making 2 severing. This sauce goes well on Vanilla Bean Ice Cream and almost all of your favorite holiday deserts.
Bananas Foster is a classic New Orleans dish with a bit of a showmanship quality, plus it's a fun dessert people can do both at a restaurant and at home. It's a really simple recipe, but it tastes great and combines classics flavor. When you think of New Orleans desserts, what do you think of? Pecan pie, bread pudding, but as far as desserts go, Bananas Foster is where it's at. The important thing is to reduce the caramel until it's very thick. Don't overcook the bananas: once they go in, try to get a little color on the cut side, roll them over, and serve immediately. Using Smooth Sailing Rum instead of regular gives it a unique taste that is out of this world.
Recipe Created by: Chef Champion exclusively for Smooth Sailing Rum.
Serving: 4
Chocolate Mouse
2 cups Semi-Sweet Chocolate Chips – dark or milk chocolate
1/3 cup water, boiling as needed for smooth chocolate sauce
3 cups heavy whipping cream
1/4 cup powdered sugar
2 teaspoon Smooth Sailing Rum
Fudge Brownie
1 box – follow directions or your favorite recipe
1/4 cup Smooth Sailing Rum, as needed – add enough so the brownie can become the base
Toffee Whipped Cream
3 cups heavy whipping cream
1/4 cup powdered sugar
2 teaspoons Smooth Sailing Rum
1 1/2 king size Heath candy bar – crushed for topping
chocolate sauce – enough for drizzle (see recipe below)
Directions for the Brownie Base:
Cook the brownie according to the package and let rest until cooled down. Or make your favorite chocolate brownie batch.
Crumble the brownie mix and drizzle enough Smooth Sailing Rum to make the brownie moist.
Take the mixture and press it on the bottom of an 8 inch pie plate or martini glass and set aside. Depending on the thickness you desire for your base you can use 2 boxes instead for a thicker crust.
Directions for Chocolate Mousse:
Place chocolate chips in a food processor until the chips are ground finely. While the food processor in running add the boiling water and blend until it has a smooth consistency. Take the chocolate out of the processor into a large bowl and set aside.
While the chocolate is cooling add 3 cups of whipping cream, rum & powdered sugar into a chilled kitchen aid mixer or use any handheld mixer with a large bowl and mix well until nice and stiff. Make sure your bowl and mixer are ice cold. You can put them in the freezer for 30 minutes before making the cream.
Take about 1/3 of cream and fold lightly into melted chocolate making sure you are mixing lightly to keep its form. Then fold the rest of the cream into the chocolate. Refrigerate covered until the rest is ready
Directions for Toffee Cream topping:
In a chilled bowl with a hand held mixer or kitchen aid pour in 3 cups of cream and powdered sugar. Mix well until the cream is soft peak. Then add the Smooth Sailing Rum and mix until stiff peaks. Set aside.
Assembly for the Chocolate Bliss:
Take pan or martini glass with the brownie crust and spread the Chocolate Mousse over brownies
Take the bowl with the La Crème topping and spread over the chocolate mousse.
Sprinkle the Heath Bar pieces over the La Crème.
Sprinkle the chopped pecans over the Heath Bar pieces.
Refrigerate several hours or for best results or overnight.
Recipe created by: Chef Ace Champion exclusively for Smooth Sailing Rum
Makes 9 to 12 servings
Chocolate Tiramisu
6 large egg yolks, brown organic
1 cup sugar
6 ounces semi-sweet chocolate – chopped fine, you can use any chocolate
1 1/2 tablespoon Smooth Sailing Rum
1 cup Mascarpone cheese – add more for a richer taste, up to double
2 teaspoons Madagascar vanilla bean paste – or any vanilla extract
1 1/2 cups heavy whipping cream – the extra 3 tablespoons are for the chocolate
8 ounces raspberry jam – preservative, with or without seeds
1/4 plus 2 tables. – enough to get the right consistency with the jam
2 – 7oz packages Italian biscotti – lady fingers
Cocoa (as needed) – for dusting/garnishment
12 fresh raspberries – stuffed with 1 chocolate morsel
White Chocolate Sauce
5 ounces white chocolate – chips/chopped fine
2 tablespoons Smooth Sailing Rum – or as needed for the right consistency
2 tablespoons heavy whipping cream – or as needed for the right consistency
2 teaspoons white sugar – or more if you want it sweeter
Combine egg yolks and sugar in the top of a double boiler, over boiling water. Reduce heat to medium low, and cook for about 10 minutes, stirring constantly. This is your sabayon. Stir in the chocolate a few at a time, & Smooth Sailing Rum and mix until the chocolate is dissolved, about 2 minute. Add in the Mascarpone cheese and remove from heat. Fold the Mascarpone into the chocolate until all is combined and has a nice smooth consistency. Place in the refrigerator until your cream is ready. Total time for making your sabayo is about 12 minutes. You can leave your sabayon in the refrigerator longer for a firmer product.
In a separate frozen or well chilled metal bowl, whip cream to soft peaks. Add the vanilla and continue to whip until stiff peaks.
Gently fold in about half of the whipped cream into your chocolate mascarpone sabayon mixture and set back into the fridge until your raspberry mixture is ready and your first row is done.
Using a medium bowl add the raspberry preservative and Smooth Sailing Rum a little at a time. Using a 9 x 13 baking pan or any square pan. Mix well until all the Smooth Sailing Rum is in. Lay a layer of lady fingers side by side and brush each biscotti generously with the raspberry Smooth Sailing Rum mixture. Spoon half the chocolate mascarpone sabayon over the lady fingers and smooth out the service. Repeat process with another layer doing the same as the first time. Using a shaker shake a nice layer of cocoa over all of the tiramisu. Whip of edges and refrigerate for at least 4 to 6 hour or overnight.
White Chocolate Smooth Sailing Sauce:
In a small skillet heat up the heavy whipping cream, sugar, and rum on medium high until it comes to a boil. Allow cooking for 1 minute or until its slightly thickened. Using a small food processor add in the white chocolate and chop fine. While the processor is running slowly add in the cream Smooth Sailing Rum mixture and blend well until chocolate is melted and nice and smooth. Pour into a squeeze bottle or small bowl.
Presentation: Cut into squares. Drizzle the white chocolate sauce then top with 1-2 chocolate stuffed raspberries. Serve right away. This products stays good for about 3 to 4 days cover in the fridge and taste the best on the second day.
Recipe Created by: Chef Ace Champion exclusively for Smooth Sailing Rum
Makes 1 pie for 8 slice servings
For the pie
3 large eggs – brown organic
1 cup dark brown sugar – packed
1 cup light corn syrup
1/4 cup Smooth Sailing Rum
1 tablespoon heavy whipping cream – optional
1 teaspoon Madagascar vanilla bean paste – or regular vanilla extract
1-1/2 cup pecan halves – rough chopped
3/4 cup chocolate chips – semi-sweet baking chips, half way melted
1 pie shell, premade – to fit a 9 inch deep dish pie plate
For the drizzle
2 tablespoons Smooth Sailing Rum
8 ounces white chocolate – melted
1/2 cup cream – for the right consistency
1 teaspoon dark brown sugar
Directions for the Chocolate Smooth Sailing Rum Pecan Pie:
Roll pre-made pie shell to fit a 9-in. deep-dish pie plate. Transfer pastry to pie plate; trim to 1/2 inch, beyond edge of plate and flute edges. Par- bake the pie shells for 10 minutes on 325 degrees then remove from oven and cool.
In a large bowl, beat the eggs, brown sugar, corn syrups, Smooth Sailing Rum, then mix well. Fold in 1 cup pecans and 1/2 cup chocolate chips. Pour filling into crust; sprinkle with remaining pecans and chocolate chips. Bake at 325° for about 1 hour & 15 minutes or until crust is golden brown and filling is puffed and set. Cool completely on a wire rack. Allow the pie to rest for at least 2 hours before cutting. This is a great make a day ahead pie.
Directions for the White Chocolate Heath Ganache
In a double broiler add the cream and Smooth Sailing Rum and allow cooking for about 2 minutes on a steady medium high heat.
Add the chocolate chips in a few at a time to allow them to melt nicely with the cream and rum. Cook until all chocolate is melted and you have a smooth consistency in your sauce. Note if the sauce is too light add more chips and if it's too thick line it out with a little cream or rum. Presentation: Place a slice of pie on a small plate and top with pecans and drizzle.
Recipe Created By: Chef Ace Champion exclusively for Smooth Sailing Rum